By Teresa Monaco
17 year-old Junior Theatre student Molly Nilsen makes almost-yearly trips to New York City—but this trip was different. The primary purpose was to scope out colleges for Molly to attend next fall. A close second, of course, was to see a few Broadway shows.
"I'm lucky enough to have access to Broadway-quality live theatre in San Diego, but there is something so magical and surreal about being in New York and seeing a show, which I've listened to over and over at home, come to life right in front of my eyes," Molly explains. "This trip, I was lucky enough to see Oklahoma!, Waitress, and Alive by Heart, all of which were absolutely incredible."
Oklahoma!, in particular, was a highlight of Molly's trip. Ali Stroker, the first actress who uses a wheelchair to appear on a Broadway stage and win a Tony Award, was playing Ado Annie in this production. "I've been following Ali Stroker's career ever since she performed on the Tony's with the cast of Deaf West Theatre Company's Spring Awakening," says Molly. After contacting Ali's management (and not expecting a response), Molly found out that she'd be meeting Ali Stroker in the lobby after the show.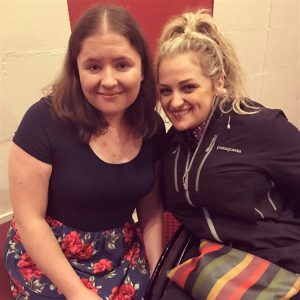 "Meeting [Ali] was so surreal, I was absolutely star-struck. I have known for a long time that I want to pursue theatre, but I never saw myself represented on the stage. I didn't know if it was possible for someone like me," Molly describes. She uses crutches and leg braces to help her walk, dance, and move through life, as a result of being born with spina bifida.
"When I saw her on that stage, I started crying, because I finally realized that this isn't impossible—that I can do this if I work hard enough. I am so lucky to have someone like her to look up to, and I hope to one day be that person for someone [else]."
When asked about her favorite part of being in Junior Theatre, Molly responds "It feels like my second home. I've been at JT since I was nine, and I believe it has made me the person I am today… right from my very first rehearsal at JT, I felt like I was accepted and loved. No matter what's going on in my life, I know that for those two hours I can be in a place where people accept me and love me for exactly who I am."
After graduating high school, Molly plans to earn her Bachelor of Fine Arts in Musical Theatre. Her top three dream roles are Jenna in Waitress, Anya in Anastasia, and Cinderella in Into the Woods. "Each of these characters has an inner strength that I admire, and go on journeys of self-discovery to become the best possible version of themselves. I think that's really empowering to me and to young women."