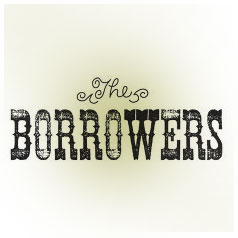 February 8–17, 2013
Directed by Michael Schwartz
Based on the books by Mary Norton
Adapted for the stage by Charles Way
---
The Borrowers
»Download Flyer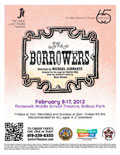 The Borrowers, based on the award-winning book by Mary Norton and recently adapted for the animated feature The Secret World of Arrietty, follows the Clock family, tiny people who live beneath the floorboards of an old manor on the English countryside.
But when the Clocks are discovered by the actual residents of the manor, they have to flee to the countryside and band together to find a new home.
Recommended for ALL ages. A JT Premiere!
This production of The Borrowers is based on the books by Mary Norton. Adapted for the stage by Charles Way. Presented through special arrangement with The deFaria Company, P.O. Box 4307, Carmel, CA 93921. Production sponsored in part by Roosevelt Middle School International Baccalaureate Magnet, the City of San Diego Commission for Arts and Culture, the City of San Diego Park and Recreation Department, and the County of San Diego.