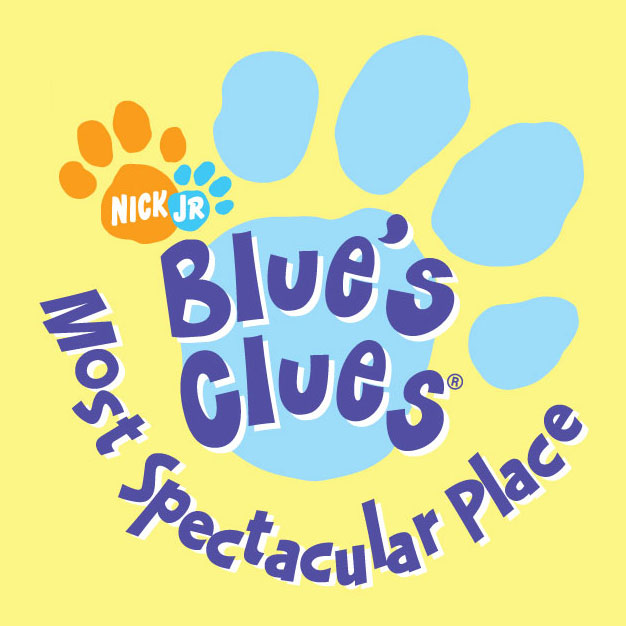 September 12–28, 2008
Directed by Becky Cherlin Baird
Based on Nickelodeon's Blue's Clues Live! Most Spectacular Place
Created by Angela C. Santomero and Traci Paige Johnson
---
Blue's Clues Most Spectacular Place
If only all life's mysteries were as simple as the ones on Blue's Clues. In this stage version of Nickelodeon's popular children's show, the amiable host Steve stumbles around looking for the next piece of evidence that will lead him to the "most spectacular place." Never mind that it's always right behind him, marked with a giant blue paw print. Luckily, his friends are more than happy to help him!
A JT Premiere! Recommended for all ages.
» Download Poster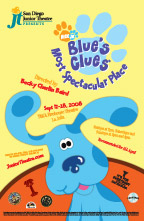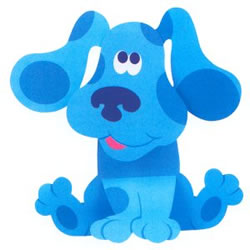 Cast
Blue - Sierra Ottilie-Kovelman
Steve - Jacob Sampson
Big Bad Wolf, Jupiter - Dominque Alexi
Pig #1, Mercury - Alana Austin
Pig #3, Shooting Star - Caterina Brown
Mr Salt, Giant - Nathaniel Pick
Mrs Pepper, Star - Olivia Lindsay
Paprika - Donovan Dustin
Bunny Slipper #1, Earth - Danielle Dawson
Bunny Slipper #2, Pig #2, Pluto - Maya Hertz
Shovel, Goldilocks - Shir Gershon
Pail, Jack - Gabriella Leibowitz
Tickety Tock, Neptune - Sierra Kindig
Horace, Venus - Xena Ramirez-Blantz
Slippery Soap, The Sun - Emma Wineman
Papa Bear, Uranus - Joe Wineman
Mama Bear - Jenna Dern
Mailbox, Saturn - Hanna Samson
Letter #1, Grandma - Kristina Stoia
Letter #2, Baby Bear, Mars - Devyn Soldner
Crew
Natacha Chandler, Ryan Luster, Julian Montijo, Faith Tomlin, Spencer Williams
Presented through special arrangement with and all authorized performance materials supplied by Theatrical Rights Worldwide (TRW), 1359 Broadway, Suite 914, New York, NY, 10018. Based on Nickelodeon's Blue's Clues Live! Most Spectacular Place. Created by Angela C. Santomero and Traci Paige Johnson. Copyright 2006 Viacom International, Inc. All rights reserved. Nickelodeon, Nick Jr. Blues Clues and all related titles, logos, and characters are trademarks of Viacom International, Inc. Production sponsored in part by the La Jolla YMCA, City of San Diego Commission for Arts and Culture, the City of San Diego Park and Recreation Department, and the County of San Diego.