San Diego Junior Theatre Educational Programs

Classes and Camps
We offer a huge variety of classes and camps at the Casa del Prado Building in Balboa Park. Classes are for students 3-18 years old. Students can chose from Acting, Voice, Dance, Musical Theatre, Technical Theatre and Specialty classes. We have classes all year long that are broken into sessions by Fall, Winter, Spring & Summer. Our class series tend to run 10 weeks. During the summer, we offer full day camps from 9-3pm (with After-Care available till 5pm) Students enrolled in our camps will take fours classes a day, a singing, acting, dance and special topics class. The end of every camp culminates in a celebration of materials learned for our campers and families.
All of our camps and classes are grouped by age or grade range. We do not move children into older groups based on experience. Our mission in the Education Department is to foster a community of artistic achievement, learning, growth, empathy, communication and confidence.
Explore Junior Theatre's…
San Diego Junior Theatre Tuition Assistance
We thank our audiences, participating families, and community supporters for their generosity. Because of their donations, San Diego Junior Theatre is pleased to offer full or partial funding to families who would otherwise be unable to participate in our educational program.
Junior Theatre has a limited amount of funding each class session for this purpose. Tuition assistance is available for classes and for camps. Tuition Assistance can be granted to a family for up to two consecutive sessions (summer camp is the exception). Applications must be submitted for each session. » Click here for more info.
SDJT Community Outreach Programs
San Diego Junior Theatre education outreach programs (programs that travel to school and community sites) offer programs to all grade levels (Pre-K through 12) for students ages 4-18. Education programs are customized for individual schools depending on the goals of the teachers, administrators, and/or PTA/PTO organization requesting the program. These programs can be incorporated into the school day or can be after-school programs.
School Day Programs
During the school day, Junior Theatre can offer your school a series of workshops that focus on introducing students to drama through creative activities. Students work together and experience creative expression as they explore imagination, movement, communication and playmaking. These are developed into activities focusing on character and scene development, theme exploration, and story structure. It also allows the classroom teacher to learn skills that may be applied after the workshop series has concluded. These workshops can be one-hour general workshops. However, the recommended structure is for a teaching artist to visit a classroom one hour per week for at least 4 weeks and for a maximum time that is usually determined by time and funding availability. The curriculum of the workshop programs can be tailored to the needs of the students and the staff (i.e. specific themes, topics, literary selections, etc.). A school may also elect an in-school residency program where we use arts-integrated curriculum to support the teaching of a particular unit of study or topic.
After-School Programs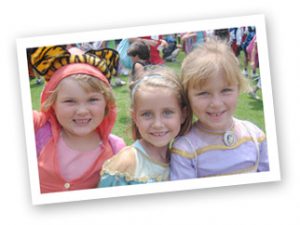 After-school programs are typically play productions where students combine theatre skills (voice, movement, communication, imagination) with the experience of rehearsing and performing a play. Most play production programs meet for a designated number of hours per week and then after the decided number of weeks, present their production to school students and staff as well as an invited audience of families and friends.
Production Workshops
In addition to the above mentioned site programs, Junior Theatre also offers Theatre-In-The-Park workshops before and after students attend school day performances of the mainstage productions in Balboa Park. Most workshops are held in the Casa del Prado classroom building, adjacent to the Casa del Prado Theatre where performances are held. Workshops can also be conducted at the school site either before or after students attend the performance. The workshops allow students to participate in theatre activities and games that explore the characters, themes and story structure of the play. These workshops are a wonderful way for young theatre-goers to prepare for and reflect upon the experience of live theatre!
For more information about Junior Theatre, please contact Education Director Erin Roberts at Erin@juniortheatre.com