What is the Junior Theatre Auxiliary?
San Diego Junior Theatre Auxiliary (SDJTA) is a family of volunteers, parents and friends of San Diego Junior Theatre students.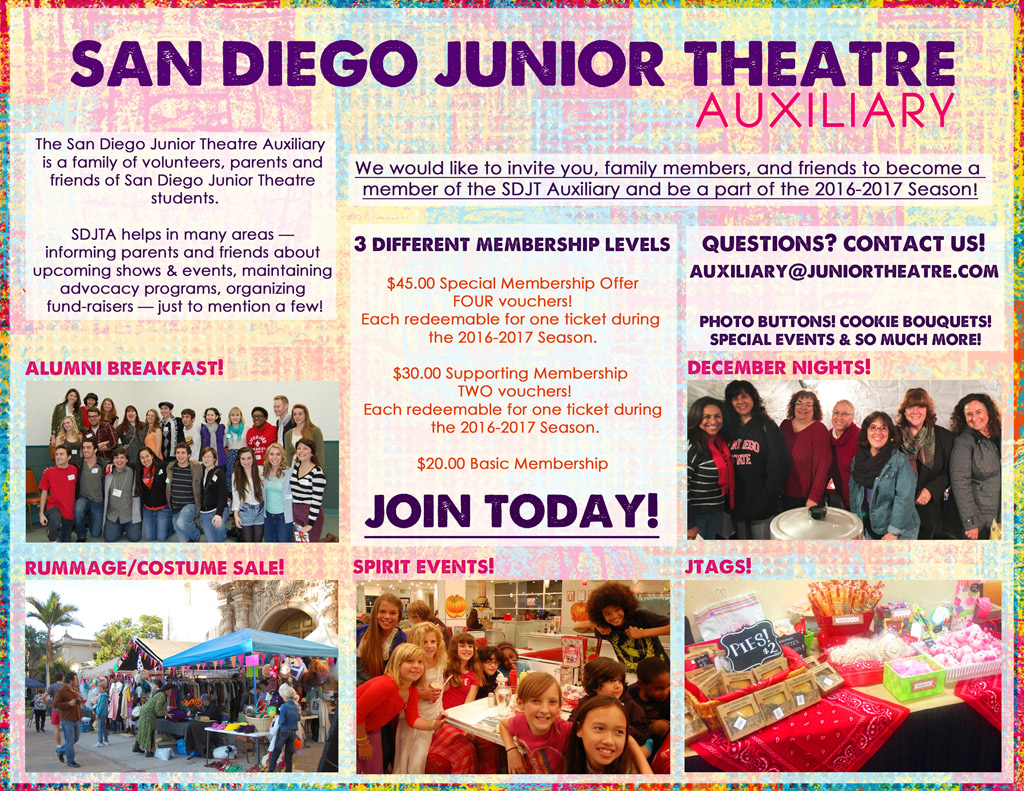 SDJTA helps Junior Theatre in many areas — informing parents and friends about upcoming shows and events, maintaining advocacy programs, organizing fund-raisers, public relations, production, set building and costumes — just to mention a few!
We would like to invite you, family members, and friends to become members of the San Diego Junior Theatre Auxiliary, and be part of the 2016-2017 Season!
SDJTA operates from proceeds from the San Diego Junior Theatre Gift Shop (JTAGS), December Nights, opening night flower sales, "Stargrams" to cast members at all shows, Halloween costume sales, rummage sales and membership dues. Together, our family helps San Diego Junior Theatre continue to shape the future through the magic of theatre arts!
Join Today!
We have three different membership levels:
$45 Special Membership – includes 4 ticket vouchers, each redeemable for one ticket during the 2016-2017 Season
$30 Supporting Membership – includes 2 ticket vouchers, each redeemable for one ticket during the 2016-2017 Season
$20 Basic Membership