About the Christian Rowley Memorial Scholarship Fund
In appreciation for the huge impact San Diego Junior Theatre had on his life, Christian Rowley's family has formed a memorial scholarship fund in his name. Each year, thanks to this fund, young people who could not otherwise attend are given the opportunity to take part in the character enriching activities of Junior Theatre. Christian Rowley was a San Diego Junior Theatre student who passed away unexpectedly on a high school trip to Mexico.
His family has graciously created this scholarship so that other young people have the chance to participate in Junior Theatre, like Christian had. We are saddened by the loss, and strengthened in the hope that many lives are still being touched by the generosity of others.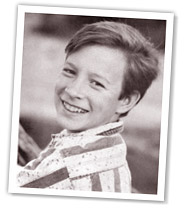 Christian Michael Rowley was the second smallest kid in his sixth grade class and the number one geek, but in his mind he was at least as talented as the kids he saw on TV shows and commercials. An audition with Faces International confirmed what he already knew — he had talent — and for $800 for photos and another $300 for acting classes, he could be rich and famous. It was suggested that San Diego Junior Theatre, with more than forty years of experience, might be a better place to start.
In May 1990, he signed up for his first class and was eligible to audition for both summer shows. He prepared "Great Balls of Fire" for his Grease audition, but when the time came, he couldn't follow the pianist's intro. He tried twice to begin and failed, then fled the audition in tears. That might have been the end of his JT career; except director James Saba saw him flee. Saba sat Christian down on the stairs and explained that every actor chokes sometime in his career. It was no big deal. He suggested that Christian might be better suited for Charlotte's Web. Christian took Jim's soothing words to heart and auditioned. He got the part of John Arabel. He continued auditioning and eventually landed the starring role of Peter in Tales of a Fourth Grade Nothing.
Undoubtedly, Christian could relate to Peter Hatcher. After all, he'd been a fourth-, fifth- and sixth-grade nothing himself. But seventh grade was a magical year. He participated in every show at JT. He fell in love for the first time and she liked him back. His role In Tales of a Fourth Grade Nothing led to commercial and movie auditions and a voice over for Eclipse at the Space Theatre. From a belittled, unsure geek emerged a self-assured, witty, good-looking, intelligent young man. Perhaps it was just time for Christian to emerge from his cocoon, but those who knew him best attribute the change to his incredibly positive experience at JT.
He learned discipline, to follow directions, that each performance demanded your best and that everyone involved in the production is important, not just those in the spotlights. He learned of the camaraderie that builds when you are a part of a theatrical production. He learned that if your screw up in front of an audience, you keep going. All valuable lessons in life.
Even after leaving JT, Christian felt attached and would return often to check on "the kids." In the summer of 1996, Christian checked on a production when he was volunteering at The Old Globe. He was pleased to note that his name was still known around JT. Someone had been caught "pulling a Christian," that is, sitting in the dark hall by the stage romancing a female.
In a diary written at the end of his junior year, Christian concluded "I've learned a few things: 1) Do NOT procrastinate. 2) Women are trouble. 3) God will help. 4) Friends are priceless. 5) Happiness is key. Never, ever, settle for second best."
At the end of his senior year, he wrote "In ten years, who knows what could have happened. Maybe, I'll be dead. If this is ever used to interpret what kind of person Christian Rowley was, I would like to point out that he was a person who desired nothing more than to be happy. He was caring and loving. He tried to live his life to the highest level he could achieve. He tried to be the best person he could be."
A lesson he learned well at San Diego Junior Theatre.
— Jody Rowley, Christian's Mother
How to Apply for a Scholarship
San Diego Junior Theatre is excited to announce a special opportunity! Students between the ages of 8 and 17 are invited to apply for the Christian Rowley Scholarship. Christian Rowley was a Junior Theatre student who passed away unexpectedly shortly after graduating from High School. His family created this scholarship so other young people could participate in Junior Theatre classes, camps, and shows and have the same positive experience their son enjoyed. This year, we will offer 4 students a year-long scholarship which will cover one Junior Theatre class or camp for each session (total of 4) and cover all production fees if they are cast in a show.
The scholarship will be awarded on Friday night, April 20th, 2018 at our opening performance of Newsies Jr.
Applicants must turn in the following to be considered for this scholarship:
Completed Application
Student letter of interest
Parent/guardian proof of income
Two letters of recommendation
The ideal scholarship candidate will possess the following qualities:
New or limited access to Junior Theatre
Inspired by some aspect of theatre
Willing to make the commitment to a year of studies
Looking for a place to belong
The student letter of interest should be at least one full type-written page (double-spaced) and include the following:
Describe how you heard about Junior Theatre and why you would like to participate in our classes and productions.
Describe why you are applying for the scholarship.
List other activities or youth organizations you have participated in and provide examples that demonstrate your commitment to these activities.
Remember that we want to hear your own unique ideas and words, please make sure the letter you submit is your own work.
Completed application packets must be submitted to the San Diego Junior Theatre office, Suite 208 by the extended deadline: 5:00pm on Monday, March 5, 2018. Applications received after this date will not be accepted. Candidates must be available for an interview, on Saturday, March 24, 2018 between 9am – 12pm. Please mark this date on your calendar. We will contact you to schedule a specific interview appointment.
San Diego Junior Theatre hopes you will take advantage of this great opportunity! Please feel free to contact our office if you have any questions about the scholarship or the application process.
Click Here to Download the Application Packet (PDF).
Please mail your completed application packet to:
San Diego Junior Theatre
Attn: Christian Rowley Scholarship
1650 El Prado, Suite 208
San Diego CA 92101

Or drop it by our office in Balboa Park