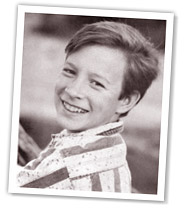 The Christian Rowley Memorial Scholarship
Christian Rowley was a Junior Theatre student who passed away unexpectedly shortly after graduating from High School. The Rowley Family created this scholarship so up to four young people each year could participate in Junior Theatre classes, camps, and shows and have the same positive experience their son enjoyed.
We are saddened by the loss, and strengthened in the hope that many lives are still being touched by the generosity of others.
How to Apply
Applicants must turn in the following to be considered for this scholarship:
Completed Application
Student letter of interest
Parent/guardian proof of income
A letter of recommendation
The ideal scholarship candidate will possess the following qualities:
New or limited access to Junior Theatre
Inspired by some aspect of theatre
Willing to make the commitment to a year of studies
Looking for a place to belong
The student letter of interest should be at least one full type-written page (double-spaced) and include the following:
Describe how you heard about Junior Theatre and why you would like to participate in our classes and productions.
Describe why you are applying for the scholarship.
List other activities or youth organizations you have participated in and provide examples that demonstrate your commitment to these activities.
Remember that we want to hear your own unique ideas and words, please make sure the letter you submit is your own work.
Completed application packets must be submitted to the San Diego Junior Theatre office, Suite 208 by: March 27, 2020 at 5:00 pm. We will contact you to schedule a specific interview appointment.
The scholarships will be awarded at intermission of the Friday, May 1st performance of Matilda at 7:00 pm.
San Diego Junior Theatre hopes you will take advantage of this great opportunity! Please feel free to contact our office if you have any questions about the scholarship or the application process.
Click Here to Download the Application Packet (PDF).
Please mail your completed application packet to:
San Diego Junior Theatre
Attn: Christian Rowley Scholarship
1650 El Prado, Suite 208
San Diego CA 92101
Or drop it by our office in Balboa Park